Regular price
$105.00 AUD
Regular price
$55.00 AUD
Sale price
$105.00 AUD
Unit price
per
Sale
Sold out
Keep your shoes in great shape with these shoe trees by Vermani
What Are Shoe Trees?
Shoe trees are foot-shaped devices that are inserted into shoes to reduce moisture and help hold their shape when they're not being worn. Shoe trees are most commonly made of wood or plastic.
Shoe trees typically have a two or three piece design, consisting of a front half resembling the forefoot and a back piece resembling the heel. These two pieces will be spring-loaded to accommodate shoes of varying sizes, and to provide a customized fit.
With some models of shoe trees, the forefoot section will be a two piece design with a split down the center. The two halves (left and right) will also be spring loaded to provide a more customized fit to the front of the shoe.
How To Use Shoe Trees
Install shoe trees shortly after wearing your shoes, and leave them in place whenever they're not being worn. This will allow the shoe trees to absorb moisture and continue to hold the shoe's shape. If your shoes are soaking wet, give them some time to dry (20-40 minutes) before installing the shoe trees.
First, insert the front of the shoe tree into the shoe and slide it as far forward as possible. If the shoe tree has a split toe, pinch the outside of the shoe to push the two halves together and continue sliding the tree into the shoe until it bottoms out on the toe. This doesn't require much force, and if the tree doesn't easily slide into the shoe, you're likely using the wrong size.
Next, compress the shoe tree lengthwise and slide the back half into the heel of the shoe. When the spring decompresses, it should adequately fill the shoe with no room for movement. If the shoe tree still doesn't fit after compressing the spring, it's likely too big for the shoe.
What Size Shoe Trees Do I Need?
Shoe trees typically come in sizes that will fit a range of up to 2 different shoe sizes. The following ranges are examples of shoe tree sizing: 6-7.5, 8-9.5, 10-11, 11.5-13, etc.
How Long Do Shoe Trees Last?
A good pair of cedar shoe trees will last a lifetime with very little maintenance or attention. Once a year it's a good idea to give the cedar a light sanding in order to open up the grain.
Cedar vs. Other Woods
Most shoe trees are made of cedar because of its ability to remove moisture, but they do come in other types of wood too (like beechwood). Whenever possible, stick to cedar. Make sure to avoid varnished shoe trees, because the lacquer coating prevents the wood from absorbing moisture.
Will Shoe Trees Stretch Shoes?
While they may look similar, shoe trees are not shoe stretchers, and when used correctly, shoe trees will not stretch shoes.
Will Shoe Trees Prevent Or Remove Creasing?
Yes, the main purpose of shoe trees is to prevent shoes from creasing, and using them regularly will help prevent creases from developing. If your shoes are already creased, shoe trees may reduce the appearance of creasing, but won't eliminate it entirely. With that being said, shoe creasing is a normal part of wearing shoes.
View full details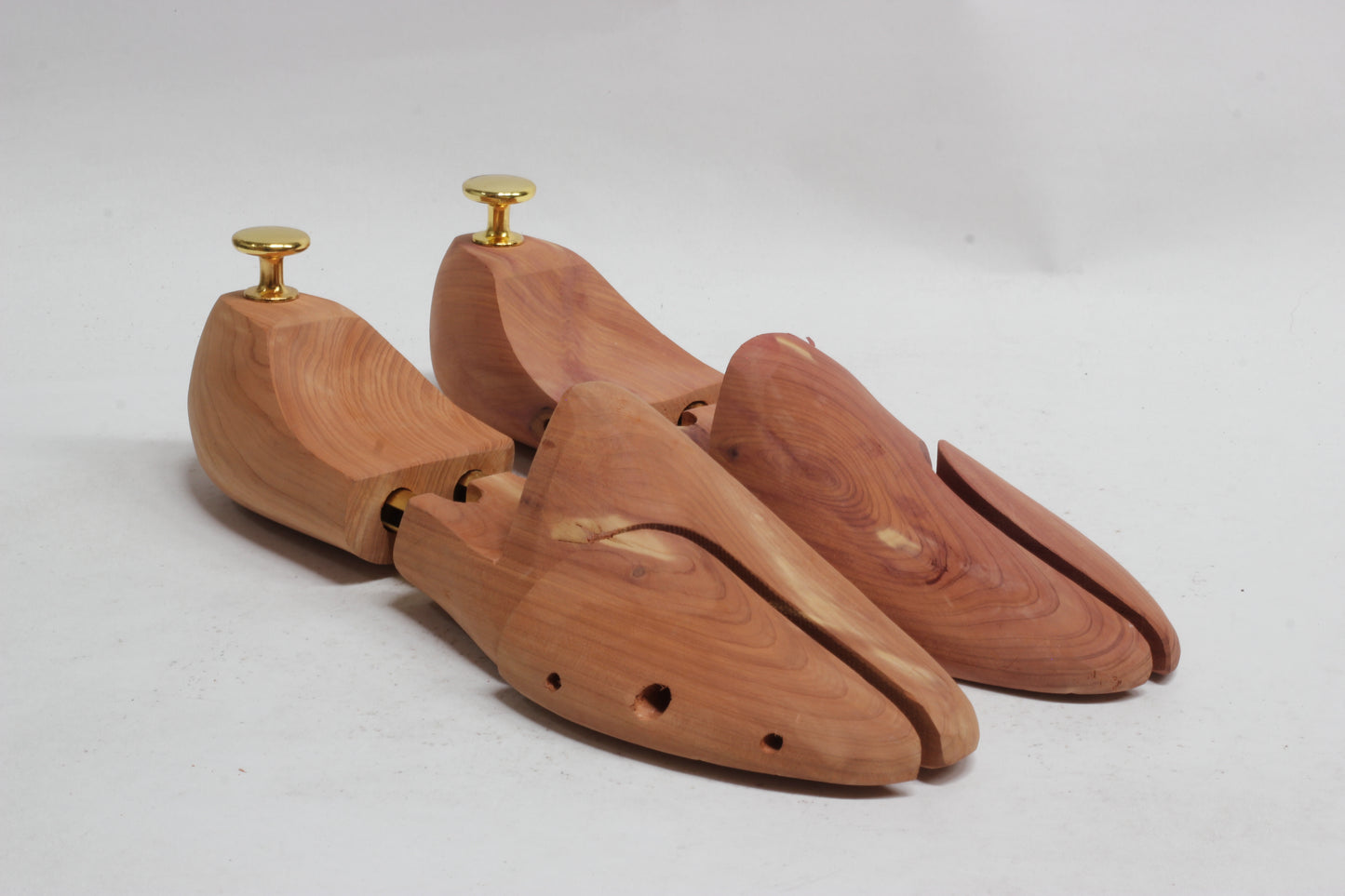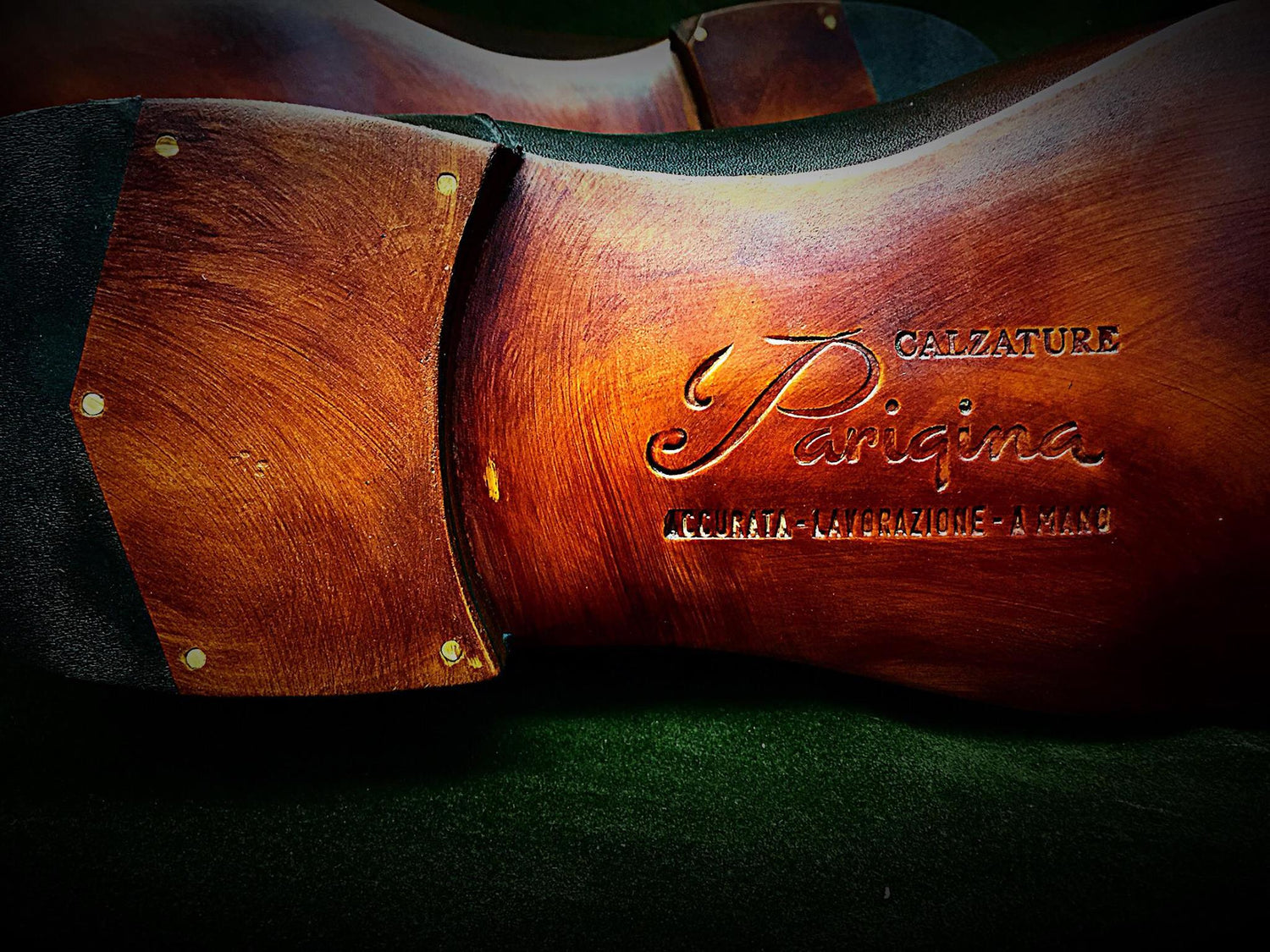 Custom Shoes
If you would like to enquire about a pair of shoes, please fill out the form below and one of our skilled shoe makers over at Parigina in Brunswick will get back to you with more information as soon as possible.
The team at our Brunswick factory are always open for walk-ins. But please keep in mind that we do not keep a lot of stock on the premises, so enquiring first is recommended.
Custom Shoes